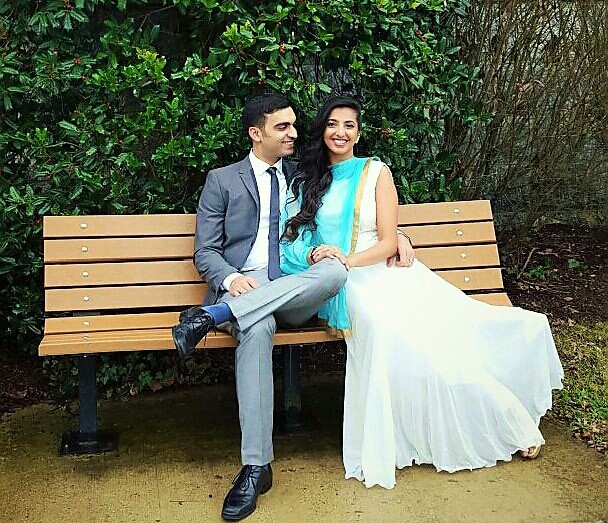 The Pabari lot
Enterprising and zealous best describes the forerunner of this family run business venture. Saurabh Pabari is as determined as he is gentle and conceived the idea of owning and operating a much needed Indian supermarket that was the first of its kind, in probably the entire DMV! After exhaustive research, sizable investment, immeasurable hardwork, plenteous patience and a copious amount of advice and help from the Senior Pabaris a.k.a Mom and Dad and Manshi Pabari (who all have great cameos at said venture), he envisioned the future of grocery retail and implemented his plans, thus offering you, dear patron, a large, hygienic, organized and ambient store you can enjoy shopping at.

Then there is Lavanya Ghorpade. Saurabh's Bride, Best friend, Chief Poster Maker and personal Odd-jobs-woman. She is intrinsically creative, great with tools and fixtures and enchantingly adept at all forms of human engagement. Never hesitating to build lasting relations with her customers, she flits around ever ready to be of service, flashing a tooth-paste-commercial-worthy smile, conducting deep conversations or perfecting thingamajigs to the minutest detail, resolutely ensuring people leave happier than when they arrive.

Out of personal experience as Indian shoppers, they guarantee that at Big Bazaar, products never pass their expiry dates, there is abundant stock of popular goods, fresh produce and dairy, a satisfying variety of brands to choose from, a great atmosphere to shop in and most of all, a pleasant experience in customer service.

Visit them at Big Bazaar if you need to shop for groceries, munch on delectable snacks, quench your thirst with a chill mango drink, pick up incense sticks for your grandmother, replace your wife's rolling pin, buy your husband some herbal powder that could reduce belly fat, or, if you could just do with some awesome company!

Happy Shopping!!!!
GALLERY
A glimpse of our store..